Shipping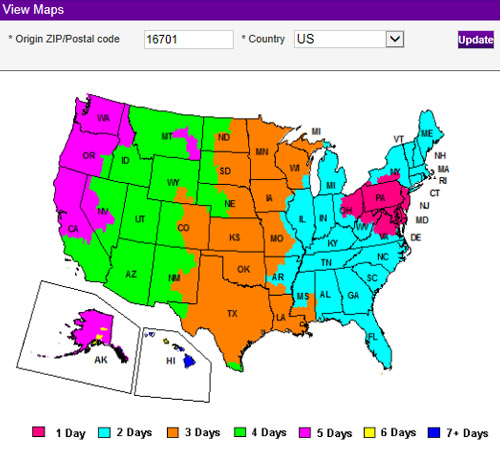 Above is the FedEx Ground shipping map from our plant in Bradford, Pennsylvania. This guide is based on good faith and weather conditions. We recommend ordering 1 week (10 Business days for West Coast deliveries) in advanced to ensure a timely delivery. Use it to estimate the arrival of your FedEx Ground orders only, but allow an additional 2 business days for processing. Please be aware that orders CANNOT ship the same day they are placed. (Please review our expedited shipping policy for rushed deliveries.)

Please allow extra time for large orders.

Stock may need to created before shipping. Large orders CANNOT be rushed or expedited. (A large order constitutes any order over $100.00.) In cases of free shipping, we reserve the right to ship the order by the cheapest available method, so please allow up to 10 days for delivery.
USPS Priority shipping typically takes 2-3 business days for shipping, however deliver time can take up to 5 Business days. Again, allow 2 Business days for processing before the order ships; orders cannot be shipped the same day.

All orders ship ASAP, but if make a note of this at checkout, we try our best to accommodate you.
NOTICE:

Orders placed Friday-Sunday or Holidays, will not be processed until the next available business day.
FREE Shipping:

For items shipping FREE, please allow at least 7-10 business days for delivery. Your order will ship as soon as possible. The freight terms will be delivered via ground delivery, which can take extra time in some regions in the United States.
Expedited Shipping

is available for in-stock items by phone order only.

The order must be received by noon EST,

otherwise it will have to be processed the following business day.
International Shipping

is available, but please phone or faxed orders if your country is not listed in our system. Shipping quotes can be provided by the website's shipping calculator. We ship with US Priority International mail only. Estimates will not include customs or carrier fees. Shipping time usually takes 6-10 days to most countries. Orders shipping to Canada and Mexico can take up to 2-3 weeks for delivery.
Shipping will not be available during the 1st week of January, for plant shut-down.

The first week of January is slotted so the plant shut-down to complete company inventory. Orders placed during this time will be processed as soon as the inventory is counted. Please allow a few extra days for shipping.
* We cannot guarantee when an order will arrive. Consider any shipping or transit time offered to you by Pepperell Braiding Company or other parties only as an estimate. We encourage you to order in a timely fashion to avoid delays caused by shipping or product availability.
Holiday Shipping
Our offices will have some limited shipping this December, as we celebrate the Holidays. If you would like your order to arrive in time for Christmas wrapping, please post your order by the following dates:
International Deliveries: December 7, 2017
Western US, FedEx/UPS Ground: December 14, 2017
Eastern US FedEx/UPS and ALL Priority Mail: December 18, 2017
If available (phone orders only) UPS/FedEx 2-Day Delivery: December 20, 2017
If available (phone orders only) UPS/FedEx Next Day Delivery: December 21, 2017
There will be morning shipping only on December 15th, and limited office hours (phone orders) on December 19th.
Inventory will be run the 1st week of January, so there will be limited shipping from January 2 - 5, 2018.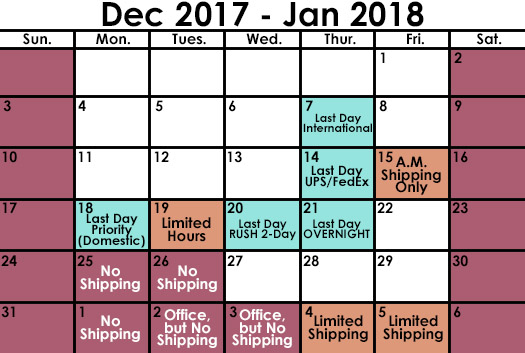 Returns Policy
We strive to offer you the best of macrame products. If you are not satisfied with an item, we do accept returns for refund or exchange within 30 days after purchase. There is a 20% restocking fee for all returns - the fee is waived for product exchange, or if an error was made by administration or shipping. The customer is responsible for all shipping costs, unless an error was made upon shipping. We DO NOT accept returns/exchanges on the following products: chair frames, books, opened or used product, discontinued/clearance items or product purchased over 90 days old.

Please allow up to 14 business days from the day you return your package for a credit or exchange to be made. Send your prepaid package along with the packing list to the address below. If you no longer have the packing list please include your name, phone number, address and description of item. Returned goods must be returned in good condition and include the invoice. A brief explanation of why you are returning the goods would be appreciated.

PLEASE CALL BEFORE RETURNING PRODUCT, TO GET A RETURN AUTHORIZATION NUMBER: 1-800-343-8114.

Returns must be sent to:

Pepperell Braiding Company
C/O Customer Returns
548 High Street
Bradford, PA 16701

Save
Save
Save