USA Flag Canvas Bookmark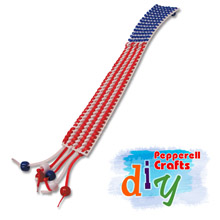 Materials Needed:
- 1 Piece of plastic canvas cut to 1" x 7"
- 3 Strands of Rexlace Plastic Lacing, each cut to 2 yards: on each of White, Red, and Royal
- 6 Pony Beads 2 of each color: Red, White, and Royal)
- 1 Large-eye plastic needle (optional)
- Scissors
- Ruler
Directions:
Instructions for this project are coming soon. For now, the directions can be downloaded here.
There are no products listed under this category.