Firecracker Bracelet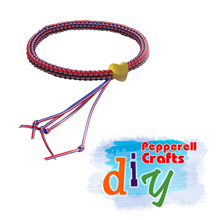 Materials Needed:
- 2 Pieces of Red-White-Blue Treslace Plastic Lacing, each cut to 2 yards 9 inches long
- 1 Pony Bead (optional)
- Scissors
- Ruler
Directions:
Illustrated instructions will be available soon. Directions can be downloaded here in the meantime.
There are no products listed under this category.